What is Friendsgiving?
The only thing better than one Thanksgiving dinner is two, right? Give thanks to your squad this year by hosting Friendsgiving, an informal Thanksgiving-ish gathering usually held on the Wednesday before or after Turkey Day.
Try these budget-friendly tips to make sure you double the fun without doubling the costs, and consider a 0% APR Instacash advance to help out!
Make your guest list VIP ?
Usually, the more people you invite, the higher the price tag for your event. Many consider Friendsgiving a time to host an intimate dinner party, not a kegger. Of course, keggers can be fun too. So make your Friendsgiving yours. Just keep an eye on the guest list, because small and manageable usually leads to lower costs. If you go bigger, make sure to follow our next tip on asking guests to pitch in to help keep your costs lower.
Divvy up the duties
Just because you're hosting the party doesn't mean you have to take on all the tasks. One of the most affordable ways to host Friendsgiving is by doing it potluck style, which is when everyone brings a plate to share. Have your guests choose their special dish in advance, and keep track of who's bringing what to avoid having two of the same thing.
Everyone loves dessert, but you want to avoid having five pumpkin pies for seven guests, right? Try using Evite or another digital invite platform (or even start a Google doc or sheet) to assign people specific dishes, or have guests comment what they're bringing on the invite.
Let's talk turkey ?
The main course is usually the host's responsibility. That's right; I'm talking to you! Nobody wants to lug a seven-pound cooked turkey from one house to another. So, your task is the bird. Just imagine how wonderful your house will smell when your guests arrive.
Turkey prices usually fall a few days before Thanksgiving and stay low until Christmas time if you want to catch a deal. Be sure to purchase your bird well in advance, because a turkey can take a few days to thaw fully. If you can't get your hands on a cheap one, you could start your own Friendsgiving tradition and make the main course of your choice. Lasagna, anyone?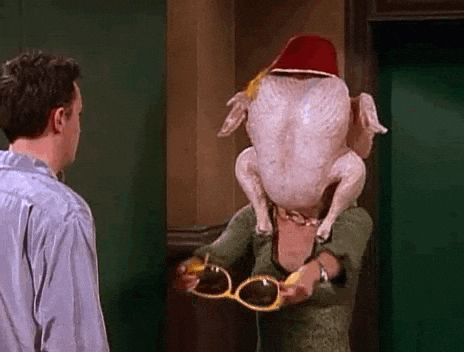 Shop smart and save
The goal of Friendsgiving is to end the night with both a stuffed belly and a stuffed wallet. Cut the costs by shopping smarter. As a member of MoneyLion, you're able to earn up to rewards with your MoneyLion Visa Debit Card through the MoneyLion app. Before hitting the grocery store (or any store for that matter), check the Rewards tab in the MoneyLion app to find the best merchant deals and promos.
When you reach 2,500 points, you can redeem your points instantly for a $25 gift card to your choice of merchants, including Amazon, Best Buy, and Target. Gift cards can also be used as a great last-minute present, for that one forgotten family member when the holidays roll around.
DIY fall decor ?
Food should be the centerpiece of your Friendsgiving dinner, so you don't need a ton of decor. However, there are a few budget-friendly extras that will make your tablescape look really special. If you live in an area of the country where the leaves change color, take a walk outside to collect the most colorful leaves you can find, and use them to decorate the center of your table. You could also cut out paper leaves if you don't like the idea of leaves in the house.
Instead of a fancy tablecloth, throw down some brown or black kraft paper and markers. Encourage your friends to write down what they are thankful for, or just doodle during dinner. Lastly, add a few strategically placed candles and a small gourd to mark table spots. Your table will be simple yet elegant.
Reduce food waste
Before the party starts, take a trip to the dollar store and grab some giftable Tupperware. At the end of the night, give each guest a container that they can fill up with leftovers to take home for lunch the next day. You'll probably never see that piece of Tupperware again, but reducing food waste is crucial during the holidays, a time when we remember those who are less fortunate. Speaking of which, have your friends bring a canned food donation to the party that you can collect and deliver to a local food bank.
Have a blast with your squad ?
The holidays are about three things — friends, family, and fun. Use these tips to host an amazing yet cost-effective Friendsgiving that will have your squad saying they came for the turkey but stayed for the awesomeness.
*See Discount Rewards Disclosures at www.moneylion.com